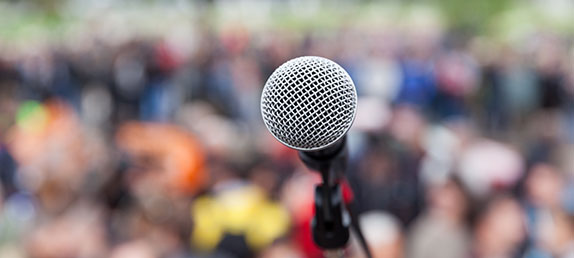 What is Testimony?
A Christian is defined as someone who professes a sincere belief in our Lord and Savior, Jesus Christ, and who strives to live by His Word and teachings always. Each person has walked a different path to that moment of acceptance and forgiveness when they became a Christian. Giving testimony details your unique, personal experience before, during, and after coming to know Christ. No one else's story is just like yours. Your testimony tells people how Christ changed your life and moved you away from death to eternal life.
---
Why is it important to share testimony with others?
All people love to hear stories. Personal accounts create connections and make it easier to understand and relate to God's Word. They remove fear and illustrate courage.
Testimony displays caring and concern for those who are separate from Christ.
Testimony glorifies God and teaches others about His love and forgiveness which open the door to eternal life through Jesus Christ.
God commands it. And he said to them, "Go into all the world and proclaim the gospel to the whole creation. Whoever believes and is baptized will be saved, but whoever does not believe will be condemned." (Mark 16:15-16)
Telling your story keeps the initial joy of your salvation fresh in your mind and deepens your personal relationship with God.
Reason and intellect are not as powerful as passion and emotion. Salvation is "born of the Spirit", not from logic and argument.
---
How to share testimony with others
Unbelievers will have a hard time arguing with your story. Your personal experience of God's love is indisputable truth which cannot be undermined or called into question. There is no right or wrong way to tell your story, but the Bible provides an excellent model for bearing witness to the power of God's grace. In the book of Acts, Chapter 26, Paul details his own personal dedication by faith. His example can help structure and define your own testimony.
Before Jesus there was no salvation in your life, only SIN.
What tools did Satan use to lead you into temptation?
What did your life revolve around?
Where did you get your identity, security, or happiness from?
Did work, money, drugs, relationships, sports, or sex control you?
How did those things begin to let you down?
What difficulties or challenges did you face?
Where would that path have led you now and in the afterlife?
Did a specific challenge or event bring you to your knees?
How were you introduced to salvation through Jesus Christ?
Did someone guide or help you along your path?
What was your first experience of the gospel?
How did you come to see the work of the Holy Spirit with your heart?
Did God intervene directly in your life? How so?
Was there a dramatic moment that changed everything for you?
For some the walk into faith is gradual. Did your perspective change over time?
How has your spiritual life changed since coming to Christ?
How has your mundane life changed?
How do you see the role of God in your life differently now?
Have you overcome an obstacle or adversity (maybe an illness or loss)?
What roles do Bible study and prayer play in your life?
How does the Holy Spirit continue to shape and mold you as a Christian?
Our struggles don't magically disappear when we accept Christ.
Temptation, adversity, and failure still challenge us. What is different?
How do you share the story of God's impact on your life with others?
Do you focus on Jesus as God's Son and our resurrected Savior?
Do you use the Bible as a resource for yourself and others?
Do you pray with and for those to whom you testify?
How do you convey acceptance, forgiveness, assurance, and eternal life?
Do you model Biblical ideals in your daily life for others?
Do you strive to extend fellowship in your church community?
How does bearing witness enrich your own spiritual life?