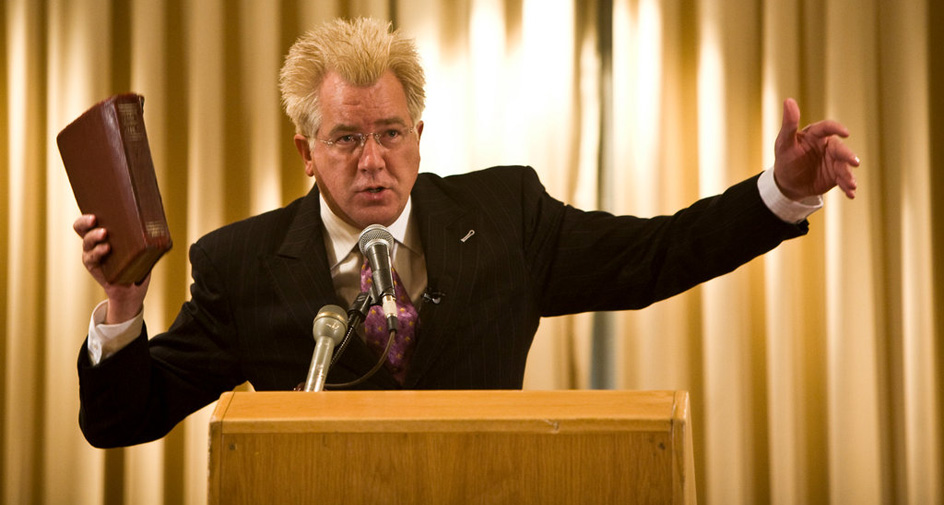 Bill's Testimony
Over 28 years ago, I lay by myself in a prison cell and finally gave God the one and only thing He ever wanted from me or anyone else.... my life... wholly... totally... I unconditionally surrendered to Him. You see, I ran from the Lord's calling on my life for years. God was merciful to me and put me in a position where I had no real alternatives - at least no good alternatives. I would like to say I surrendered willingly, but that is not the case. The important fact is that I did!
I didn't grow up thinking I would end up in prison. I was the oldest son in a solid nuclear family in Columbus, Ohio. My father owned a Standard Oil gas station; my mom was a homemaker. We regularly attended the local Methodist church. It was all very normal and happy.
But then, when I was 16, my father died. I socked away as much money as possible. I had a plan: to earn an undergraduate degree at Ohio State, then go on to divinity school and be ordained a Methodist minister. I got through my junior year in college as a broadcast journalism major when the money ran out so I decided to take a year off.
I answered an ad looking for people to sell computers over the phone. It was 1978 when PCs were still relatively novel, and my efforts proved an immediate success. Within a few weeks, I had set up a boiler room in my mother's basement with 20 of my friends hawking PCs. Soon, the college kid on hiatus was fat with cash! Not long after, I abandoned the idea of returning to school or joining the clergy. Basically that experience started me down the path of, in the words of Gordon Gecko, greed. I built my company into a multi-million dollar operation, but, two years later, I got restless and sold my business.
I turned to the financial markets and became what would later be called a day trader, trafficking in commodities, futures, options, and other risky investments. The stakes were high, the adrenaline rush was huge, and the bucks rolled in. In October 1987, when the stock market took its deepest plunge since the Great Depression, I lost my whole fortune in a matter of days. You would think a person who had any knowledge of God would have at least thought, "Maybe God is trying to get my attention," but the greed and the power kept me in the lifestyle: booze, coke, power suits, full-length mink coats, weekends in Vegas losing 50 grand at the craps table.
On December 17, 1989, I was lounging around a friend's Pensacola Beach condo, sipping a snifter of Louis XIII cognac, waiting for the pizza delivery man and Monday Night Football, when a bevy of U.S. Marshals with a helicopter hovering overhead, showed up at the door, pushed me to the floor, handcuffed me, and tossed me in the Escambia County Jail. On the day after Christmas, I was shipped back to Chicago, where a judge remanded me to the city's Metropolitan Correction Center.
On the night of August 20, 1990, I lay on my jailhouse cot thinking about my wife. She had visited me that day and told me that no matter how long I was in jail that she was committed to our marriage and would stay with me. She had every reason in the world to leave me. I had not been a very good husband. I thought about how she loved me so unconditionally and that was the moment that I thought, "If my wife of flesh and blood could love another person to that degree, how much more must God love me?" That was what really caused me to break down and wholly and unconditionally surrender my life to Him.
From November 1990 until August 1992, I did "Club Fed" time at the Federal Prison Camp at Saufley Field near Pensacola. I spent a good deal of my sentence working on my education. It was like the seminary I should've gone into 12 years earlier. The Lord sent many incredible people into my life to disciple me. He opened the door so that I could get several theological degrees from well-known Christian schools including Jerry Falwell's Liberty University in Lynchburg, VA from which I earned a B.S. in Biblical studies. God fed me through many national media ministries each day. I had my "Arabian desert experience" much like Paul did after his conversion on the Damascus road. I was ordained by Spiritual Life Concepts, a non-denominational seminary in Largo.
After my release, I returned to Chicago and became a full time evangelist, traveling around the country telling my story and saving souls in Christian churches of every denominational background, racial make-up, and size. After a while, though, I was not satisfied. As an evangelist I was supposed to reach the lost. Church was the last place I needed to be preaching. The people there are already Christians! In order to reach the audience for which God had called me, I began to preach on Christian TV stations nationwide, and eventually, I started this Internet ministry which is now reaching over 2.5 million people worldwide each and every day.
The reality, though, is that I did nothing!!! Whatever "I" have done, it has not been Bill Keller, but the Lord working through Bill Keller. You see, it is no longer my life. It is no longer I that live, but Christ that lives within me. You see, without Him, "I" can do nothing. WITH Him, I can do all things!!!
I share this with you as a brief word of testimony. For those of you on the fence, trying to live with one foot in the church, one foot in the world....IT DOES NOT WORK! Jesus said you cannot serve two masters. Today is a day of decision and as you read these words you know it. The Holy Spirit is convincing you even as you read these words right now. It is not a decision I or anyone else can make for you. You must make that decision.
Let me leave you with this word. If you keep trying to do it your way with a little God sprinkled in, it will never work. Surrender... Give it all to Him and it works. I didn't say it becomes easy or everything becomes a bed of roses. Jesus told His disciples just hours before going to the cross that in this world they would have tribulation, but to be of good cheer, because He had overcome this world.
Without Him 100% you have no chance. With Him 100% you will know the peace, joy, fulfillment, and abundance this life can offer.
I love you, and care about you deeply. I will be praying for you today.
Surrender. 100% to Him. Unconditionally. It is the only way this life makes sense.
In His love and service,
Your friend and brother in Christ,
Bill Keller