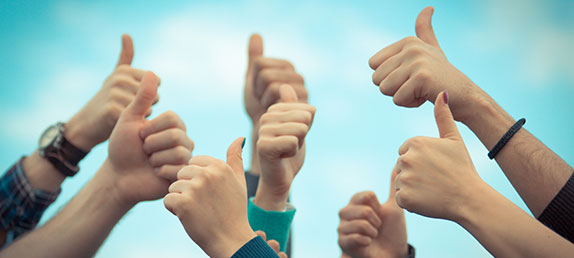 Has God performed a miracle in your life? Has LivePrayer helped you enrich your personal spiritual life? Your unique experience could inspire someone who is struggling with a difficulty or challenge in their life. It could be the key to helping a lost soul find Jesus and through Him, salvation.
I've developed a longing and desire to lead people to Christ like never before. I know this is the work of the Holy Spirit. Lately I've been praying for the Lord to give me the desires of my heart. Not necessarily the desires I currently have...but to change my desires to agree with his vision for my life. This is an unusual turn of events. Your Devotional and message helps me to clarify God�s will in my life. Thank you.
I wrote you months ago. I was so confused and at the end of my rope. I told you some very personal stuff. I was working as a male escort (prostitute), was addicted to Crystal Meth, and was involved in the gay scene. Although my life is nowhere near perfect, I have a real job now. I have spent a lot of time alone. In order to get out of using drugs and get rid of the people who liked me only for my body and looks I had to eliminate almost everyone from my life. But things are looking up. I just want you to know (as I tear up while typing this) that in a sea of people who are self-centered, uncaring, and hateful, your light shines through. It saved me to know that someone, one person, cared to read my email and respond. I watch Live Prayer quite frequently and I want to thank you from my soul for being there for the many good people out there who are lost and need your help.
Bill, thanks for doing the show inspired by my email! When you said "I heard God talking through him" that was nicest thing I have ever heard anyone say about me in my life. You made my week, and I hope the show helped some people get closer to THE MAN. It helped me. Bill, I have an important praise report. It is very relevant to what you talked about tonight when you mentioned how people can minister whether at the gym at work or in their normal day to day activities. A few years ago when I lived in California, I was empty inside although my life was cushy. I had questions about God so a person I met at Starbucks mentioned that I should email a pastor or try to find one online. Two years ago I looked up "priest" on the AOL member list and emailed a few pastors and asked them some advice about how to know Jesus. One guy emailed me back and said that although he was very busy with his parishioners, I could email you. That�s how I got to know you who you were. I then moved back to Florida and saw you on TV. I have turned my friends on to your show and I know FOR SURE, they had no contact with Jesus before watching your program. Many of my friends and acquaintances watched tonight since I told them about your email and how my question inspired you. So you are so right. You don't have to live in a hut in Africa to be effective. You CAN minister to people in your day to day activities without even knowing the chain of events you started. The guy at Starbucks, who I didn't know and never saw again, told me to look online for a pastor or minister. The pastor who emailed me back gave me your email. Now the friends and acquaintances that I suggested watch your show are getting closer to Christ. My praise report is this: Both the guy at Starbucks and the pastor that gave me your info said, "I will pray for you." It seemed to have worked even though I had no more than a minute of communication with them. They probably will never know how they ministered to me and my friends without knowing how it helped us get closer to Christ. You are right - we all can plant the seed in someone without even knowing it.
Thank you for your daily outpouring of love through Jesus Christ. Your devotional today warmed my heart. I wish you and your family blessings 'every day'. I found your website in the darkest of my days. I like your straight forwardness in what you share. It helped me to 'buck up' and not give Satan any more victories in my life. I have saved and shared many of your devotionals. I'm sure some of my family and friends have felt offended by hearing the truth of God's Word, but I am also sure many are encouraged. I have become Bolder for God! I'm grateful that you have allowed Christ to use you to help me and others in our walk. God Bless you and your family for the sacrifice you're all making for the Live Prayer ministry outreach.
I'm not a perfect human as no one is. But one area of my life that seems to be 100% on track is my willingness to give to further God's kingdom. I always give cheerfully and with a sincere heart. I've never lacked faith in this particular area, Bill. I�ve done this for 20 years and God always blesses me. The point is, I have a year�s worth of trust in God built up in this area. I've been dreaming and praying for several months of having the ability to share God�s message everywhere. I don't have millions of dollars, but I truly do what I can without hesitation. Again this is one area if my life that is fully on target. When I read the devotional today it jumped off the page at me. I felt the Holy Spirit speaking just like when the words of Scripture jump off the page at times. No one else does what LivePrayer does. No one. With the right resources the soul harvest would be incalculable. And after all, what else do we take with us into eternity except our relationship with Jesus and the things we have done for Him. I just don't believe in coincidence with God. That's not who He is. Standby...let's watch how this plays out.
You are on page 3 of 4. [ Previous Page / Next Page ]