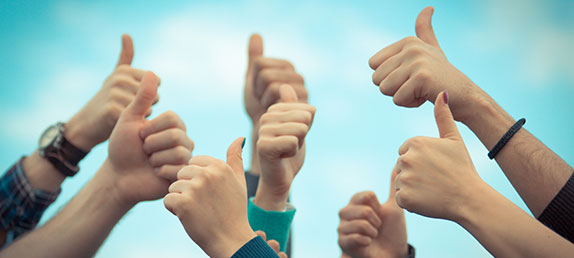 Has God performed a miracle in your life? Has LivePrayer helped you enrich your personal spiritual life? Your unique experience could inspire someone who is struggling with a difficulty or challenge in their life. It could be the key to helping a lost soul find Jesus and through Him, salvation.
I just wanted to take a moment to thank you for my life. I have no doubt that the prayers and thoughts of kindness and forgiveness bestowed upon me by you and your comrades in prayer are the greatest reason I survived 2 deadly cancers at the same time. Thanks are just not enough. You are in my thoughts and prayers every day. God certainly has blessed you. Love does conquer all. With all my heart and soul, THANK YOU for every sunrise I get to see.
I was a militant homosexual until I came to the Lord Jesus Christ...He not only gave me a new spirit and caused me to be born-again, but amazingly, He healed me of something I didn't even know I was sick from!!! I remarried my husband and we have been married for 26 years. Everything you said in your daily devotional was the TRUTH, and I for one was oh so very glad to see it. Thank you and may God continue to bless your obedience.
I just wanted to tell you that last year I took up your challenge to read the entire Bible from cover to cover. Well I finished! Hallelujah!!! I have been a born-again Christian for over 30 years and have never read the entire Bible from end-to-end. Over the course of my reading, God, through the Holy Spirit, opened my eyes to several things I never saw before. Those that impacted me the most were David's examples of how to truly worship God, how hard it was for the ancient Israelites to follow God's law (they just couldn't), and that it could only take someone perfect to fulfill the requirements of the law - Jesus Christ! Now, finally I have the resurrection power of Christ within me and can live the life that he has called me to live! I can go on and on. But, most importantly, I gained a broad prospective of the Bible and a clearer understanding of God's plan of salvation for man and the role I am to play in it. Thank you, Bill, for presenting this challenge. At times, I had my doubts about making it through and just wanted to give up. But through God's encouragement and my perseverance, I did it! My question to you now is what should I do next? Should I focus in depth on a few books? I recently bought the book by Henrietta Mears, "What the Bible is All About" after you made mention of it on one of your shows. I've really been drawing close to the Lord over the past few months and realize how close to the end this world truly is. It seems the rapture is at hand
This may sound a bit strange, then again it is GOD I am talking about so maybe it won't. It is now 1:30a.m. Last night I had a dream. In my dream I was at a gathering. I had come to it to listen to a man talk. The man was Bill Keller. There was a group of people there. One of the men in this group told me" Listen carefully to him; he has a message for you." I was amazed tonight when I couldn't sleep. My husband had not come home yet, and I turned on the T.V. Who do you think was on? Yep. You guessed it. Not only was it Bill, but it was, I believe, the first night he had a LIVE AUDIENCE!!!! I have only seen this show a few times and have never watched the whole program but tonight it was different. I know I have a lot to gather from it. One of his first callers was Corey. She talked a little about her problem. It hit close to home. I am too ashamed to call in myself, but I followed in the prayer he gave her. I feel as if I have hope. I will continue to pray for Corey and myself also. I thought I should share this with someone somehow.
I wanted to take a moment to thank you for the daily devotional you send to me every day. I am a non-denominational Christian as I find it hard to find a church where I belong. My sister signed me up for this. I don't think she knows what it means to me. Your e-mails have provided me a sense of belonging and bring my spirits up each and every time I read them. I have great faith, though it is a blessing to be reminded. Thank you and God Bless you.
Pastor Keller, you are in my prayers and I'm sure you're in the prayers of many thousands (if not more) of other people. Enough thanking us, thank YOU so much for this devotional! It has brought me through so much! I was previously a Believer in Christ, but reading this helps me keep my life on track and my spiritual knowledge and beliefs in check. It�s hard to not succumb to society�s standards sometimes! Pastor Keller, in fighting the battle for Jesus through the internet and TV, you are like a role model, fighting for all of us who have been called to fight on much more discrete levels! I also thank you for setting the bar high for us and not allowing us to settle into our old easy shoes! Not everyone is called to do what you do, but I assure you that you inspire us all and all of us believers are supporting you in spirit and in prayer! I'm inspired to the point that sometimes I want to run out in the street and scream, �'WHY DONT YOU PEOPLE BELIEVE!? HOW CAN YOU NOT BELIEVE!? JESUS WAS TORTURED AND PUT TO DEATH FOR YOU AND YOU WON�T EVEN GIVE HIM THANKS!� You will never know how much you have affected and touched my life and the lives of others. Keep doing it for Christ and for the souls of the billions yet unsaved. This is a real war we are fighting! A war for souls, to win souls on our side before it is too late for them! Be encouraged and blessed that we're winning more for Jesus every day! GOD SPEED & HOPE
THANK YOU FOR YOUR PRAYERS. I HAD A BRAIN TUMOR REMOVED ON 8/20 AT MT SINAI HOSPITAL IN NYC AND AM FEELING WONDERFUL TODAY. I CAME HOME LAST TUESDAY. BLESS YOU AND YOUR WORK.
You are on page 1 of 4. [ Previous Page / Next Page ]